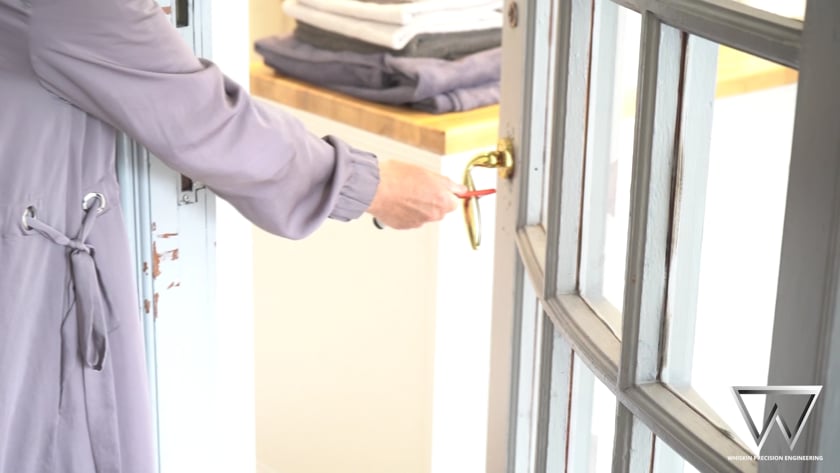 Zero Touch, Zero Transfer
Our Zero-Touch key is carefully designed to keep you safe and stop the spread of infections by limiting your interaction with public surfaces in day-to-day activities. Our ergonomic design makes the Zero Touch easily open doors, use on touchscreens or ATM type keypads whilst being comfortable to use and small enough to store in your purse or wallet, or attach to your keyring.
The Whiskin Zero Touch key is precision engineered from aerospace-grade alloy that offers exceptional strength, resistance to fatigue and warping, whilst remaining light-weight enough to carry on your keyring or in your purse or wallet. They are also manufactured locally in Belfast and can be supplied and delivered quickly, with no need to wait for long delivery times from Asia for sub-standard alternatives.
Whiskin Zero Touch Benefits:
Keep your hands clean and stop the spread of infections.

Easy to carry, simply attach to your keyring or slip it into your purse or wallet.

Easy to clean, simply wipe down with a disinfectant wipe.

Made from aerospace-grade alloy giving unparallel strength for its lightness

Available in 3 sizes to suit your specific needs – small / medium / large

Can be personalised with names or company logo as a gift or 'welcome back to work pack'.
Ergonomic Design Makes It Hygienic To:
Open all types of doors

Use ATM Machines safely

Flush public toilets and use taps

Carry your shopping/grocery bags

Pull any levers, such as window latches etc
Show Your Staff & Visitors You Care
According to numerous recent research, your staff's main concern when they come back to work from the COVID-19 lock-down is their safety. The supply of a Whiskin Zero Touch door opener to staff shows that businesses are taking the safety of their employees seriously.
The Whiskin Zero Touch door opener is available in a range of colours and sizes and can be branded with your businesses name and logo?
The best form of protection is to use a tool that means no part of your body comes into contact with potential high-risk virus spots, like the taps on a sink in a public bathroom, the door handle of a taxi or shop, or the ATM keypad at the petrol station.
The Whiskin Zero Touch door opener is an elegantly simple device that acts as an extension of your finger to create a barrier between you and all sorts items and surfaces that you would come into contact with in the course of everyday life.
If you are looking for Customisation
or looking to order more than 50 Get in Touch below
Frequently Asked Questions
Small


Medium


Large with bottle opener

Whiskin Precision Engineering Limited
67B Upper Braniel Road
Castlereagh
Belfast
BT5 7TX
No, but if you require laser etching the minimum order is 50. Also, discounts are available on orders over 50.